Home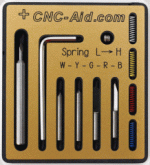 Video is showing "Diamond or Carbide Bit Drag Engraving" (Spindle OFF) on an Aluminum Plate at:
https://www.youtube.com/watch?v=prIl-e7kIWQ
Video is showing "Power Engraving with a Carbide Bit" (Spindle ON) on a Rough Steel Plate at:
https://www.youtube.com/watch?v=UHeKF7ZDeSM
Video shows the F.E.T being used to Engrave this PCB Solder Mask.
https://www.youtube.com/watch?v=FRXFFoN47yo
---
The New F.E.T. holder has been "Completely Redesigned" and "More Capable" than ANY other Power or Drag spring loaded engraving tool we have seen. We consider it the New Ultimate, Most Capable, and Most Affordable Complete Spring Loaded Engraving Tool Kit available today!
NOTE: Most other "Drag Engraving" Holders selling are NOT capable of "Power Engraving" because they ONLY push the bit with a spring with no way to rotate the bit. Our Engraving Holders can "Hold AND Rotate" the bit. This is a COMPLETE Kit that can do Power or Drag spring loaded engraving!
Don't take our word for it…

please take the time to compare the following points yourself.
Special $89.00 USD

 

– 

Free Shipping Worldwide!
Made of Tool Steel

Can run from any RPM to 50,000 + RPM

Will work on "any" CNC Machine capable of holding a 1/4″ or 6mm holder.

Holder Measures ¼" diameter (optional 6mm) approx. 1 ¾" long

Lightning Fast Bit changes "without needing any tools"

Lightning Fast Bit changes "while the Holder is still in the Spindle"

Specifically designed for "Power Engraving" over uneven surfaces and tool wear.
Specifically designed for "Diamond Drag Engraving" over uneven surfaces and very fine engraving detail.
Unlike the original F.E.T. Holder… which could only accommodate the Split Type Engraving Bits… the New Holder can NOW accept pretty much any 1/8" (3.175mm) shank "Power Engraving Bits" or "Diamond Drag Engraving Bits" of "your choice". You are "no longer" limited to using split type engraving bits.

All Original F.E.T. Bits and Springs will work with this New F.E.T.

Just contact us for any replacement parts for these Kits including our Diamond tip bits.
Please note:
The Newly designed F/E.T. Holder is more complex to manufacture, but the success of the original F.E.T. allowed us to make larger runs which is reflected in the Special Low Price. No other spring loaded or floating engraving tool presently selling even comes close to this one for all the above reasons.
Accommodates Wear and Irregular Surfaces…
… in a wide range of materials including:
Steels and Irons

Stainless Steels

Copper, Aluminum, Brass

PCB boards

Plastics like ABS, Acrylic, PVC, Nylon, etc…

Woods

Fiberglass and other Composites

Carbon

Even Burnishing Information on Hardened Steels, etc…

Basically this tool will engrave anything that can be engraved!
This Kit contains all of the following:
(1) Precision Tool Holder (made from "Tool Steel") comes with Standard 1/4″ Dia. Holder unless you Select the Optional 6mm Dia. Holder option when ordering
(5) Springs. These springs are Color Coded from Lowest to Highest Resistance – White – Yellow – Green – Red – Blue  (Shipped with the Green Spring in the Holder).
(5) Highest Quality Micro-Grain Engraving Tool Bits (Shipped with one in the Holder).
(1) Allen Key.
(2) Retaining Screws (One Spare).
(1) Heavy Duty ABS Tool Holding Case.
(1) Bonus – Free 2ml container of Prolong grease.
About the Engraving Tool Bits:
The Engraving Bits we include are all made from the Highest Quality Micro-Grain Carbide Powders along with Other Important Elements to produce the highest toughness and wear resistant tool bits available. For some materials… using an appropriate coolant will improve the resulting finish and extend the life of the engraving Tool Bit.
Optional HQ 120 Degree Diamond Bit $17.95 Ea
The "Optional" HQ 120 Degree Diamond Drag Engraving Bits were specifically made to CNC-Aid.com specifications. They are of the best quality you will find. The default angle of the 120 Degree tip was chosen because it is Durable and the Engraving Depth can be controlled by the 5 overlapping spring pressures that are included in the F.E.T. Kit.
About the Springs:
These are the Highest Quality, Specifically Designed, Calibrated, and "Color Coded Springs" to accommodate pretty much any Engraving needs you will encounter.
We consider the New F.E.T. to be the Best of the Best! Why settle for less!
Made and Coming to you from Canada.
Free Shipping Worldwide! 
PLEASE NOTE: Free Shipping does not include Tracking. If you want Tracking and faster delivery, then please contact us for a quote.
Happy Engraving!